TheSTEMKids is a participant in the Amazon Services LLC Associates Program, an affiliate advertising program designed to provide means for sites to earn advertising fees by advertising and linking products on Amazon.com and the Amazon logo are trademarks of Amazon.com, Inc, or its affiliates.
---
"What I have got from my childhood aren't toys, but memories. And happy memories are better than any toy." —River Phoenix.
Investment gifts are not only about money.
In raising grandkids, the best and most affordable investment gifts you can give are toys! But not just any toy. It has to be those toys that provide long-term value to them, this is an investment gift after all.
For that, science toys are an excellent option! These toys allow them to have fun as they learn. And also spark their scientific careers in the future! Here, we compiled the best science toys for kids, which you can buy for no more than $80. All of which offer the following features:
Will capture their creativity.

Will strengthen their imagination.

Will instill their love for science which will remain even as they age.
Wanna know what they are? Read below!
Best Investment Gifts You can Give Grandkids
The right kind of toys can be great investment gifts. Below are the tiptop science toys for kids that you can get on the market right now. Invest in their future with the following!
BEST OVERALL INVESTMENT GIFT

A portable microscope to accompany your kids in their outdoor adventures. Durable, lightweight, powerful!
This pocket microscope is a valuable tool for kids because it lets them see beyond what their eyes could. The STEMscope portable microscope is perfect for your outdoor-loving children!
Thanks to the reliable ABS plastic build, the device is easy to use and sturdier than a laboratory microscope. In addition, dropping this device won't be a problem because it is lightweight and non-slip grip.
The 20 to 40 times magnification means that kids can view up to 4mm objects with ease. What's great about this toy is that it kindles the interest of kids in science. Maybe with this toy, you're building a future scientist, and that's a great investment gift for a grandchild's future.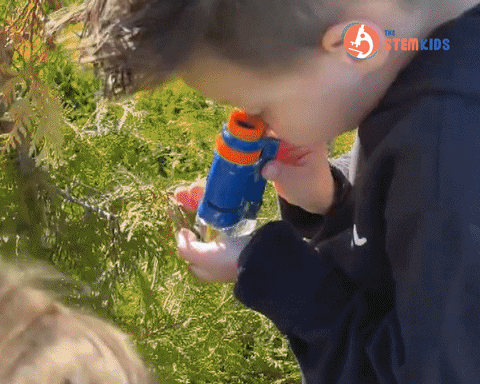 There is no limit to what environments they can use this handheld portable microscope!
BEST FOR FUTURE ELECTRICAL ENGINEERS

One kit that contains over 100 electrical projects for kids to explore. Build your future electrical engineers with this!



Another fantastic investment gift for grandkids is this electronics kit. This toy will expose your grandkids to some electrical spectacle.
Inside the box is more than 100 circuit projects to explore! This toy will keep your grandchild occupied for days. Unlike real circuits, there is no soldering required to operate this toy. Instead, simply snap the pieces together and power the system up with batteries.
Who knows? You might be raising a future electrical engineer with this toy. That's the thing about investment gifts; you can invest monetary funds or invest in their future using STEM toys like these.
BEST INVESTMENT FOR THE LITTLE CHEMIST

Explore elementary experiments that are safe, child-friendly, and loads of fun with this chemistry set!



This chemistry set is a perfect choice if your grandkids love doing experiments. No need to worry because the chemicals dealt with here are entirely safe.
This investment gift immerses kids in the field of chemistry. It comes with a 48-page colored manual to guide kids along the way. With this, children will not see chemistry as a tedious workload but a fun learning process.
Bond with your grandkids as you both discover basic chemicals. You also might learn a thing or two from this kit.
BEST PHYSICS INVESTMENT GIFT

Want to raise a modern-day Einstein? Check out this chain reactions kit and teach kids physics as they go!



The list will not be complete without Lego's entry. The Klutz Lego Chain Reaction kit is for children who love building machines. A fun activity on the surface but will teach them basic physics concepts.

It is best to guide your grandkids as they build whatever machine they can think of. It can be a seesaw, an elevator ramp. The options are endless!
It comes with 33 Lego pieces out of the box that kids can transform into various machinery.
BEST BUILDING MAKER FOR IMAGINATIVE KIDS

Want to build a castle? A building? A fort? Kids' imagination is the limit with this tile kit!



Valtech banked on the creativity of children in the development of this science toy for kids. Magnets power Valtech Magna-Tiles to keep things intact. Your grandkids can create 2D or 3D designs using the provided tileset.
Kids' imagination is the limit when they have this at their disposal. Although sometimes kids might outgrow the limited number of tiles. You can always buy an expansion pack to reinforce their desire. And allow them to build more effective designs.
Magna-Tiles deserve to be on the list of the best investment gifts for grandchildren. It allows them to make their own decisions in building the design they see fit.
BEST INVESTMENT GIFT FOR ANALYTICAL THINKERS

The hip Rubik's cube for your techy kiddos. Watch them solve this and battle it out against the world's best GoCubers!
Rubik's cubes are unique on their own. But Particula's version of the classic toy adds a cool extra twist. A feature that your grandkids will be very fond of.
This innovative science toy for kids works best with Bluetooth. It can connect to an app on your device to maximize its use. Through the app, they can perform various challenges and puzzles. What makes the GoCube a good investment gift is that it imparts logical and analytical thinking. These are qualities kids can use in the future!
Even so, grandkids will enjoy playing with this toy even on their own. It's on the pricier side but offers good value for money—the Particula GoCube great candidate for the best investment gifts for grandchildren.
BEST INVESTMENT GIFT FOR CREATIVITY

Art is an integral foundation for kids' development. But washable art? Now that's just revolutionary!
Out of their wild imagination, grandchildren love painting and drawing over walls. This can be highly frustrating. But why not encourage the behavior using easy-to-wipe tempera paint sticks?
These crayon alternatives use unique and fantastic technology that makes their paint washable. This feature means that no pesky streaks or marks are left on almost all surfaces! This science toy for kids is excellent for stimulating their creativity without leaving bothersome marks.
If you invest in an art tool for them now, maybe an artist blossoms out of your grandchild. They might find their passion through these paint sticks, who's to say?
Why Invest in Science Toys for Grandkids?
Science toys are undoubtedly the best investment gifts for grandchildren. Because it meets their growing needs and inspires better cognition. Outlined below are the perks of investing in these types of toys:
They encourage quality time and bonding with grandkids
Most science toys for kids need adult participation to assist the children. This lets you bond and create meaningful memories with your grandkids.
The best investment gifts for grandchildren are also the time you spend with them. These science toys can provide you with that footstool. After all, the amount of time you spend with a loved one is an investment in itself.
They introduce kids to the basics of STEM
Science toys for kids introduce them to the basic principles of STEM. Also known as science, technology, engineering, and mathematics. Not through boring manuals and lessons. But by promoting educational play. These are investment gifts that can motivate a person's future career path.
They stimulate the brain through new challenges
Science toys bank on the natural creativity and imagination of children. They do not spoon-feed kids with the fun. Instead, they create their fun while learning invaluable lessons.
There's nothing more exciting than surpassing the challenge. It drives kids to learn more intently!
They replace screen time with active engagement
Another reason why science toys are the best investment gifts for grandchildren is that it limits their screen time. Science toys promote physical and mental participation instead.
This way, you can keep them under the recommended screen time for kids. You also invest in maintaining their health at peak.
Qualities of A Good Toy Investment Gift for Grandkids
Okay, so now you are convinced that the best investment gifts for grandchildren are toys. Science toys, to be exact. But what qualities should be present when choosing science toys for kids?
Stimulates active participation
Toys that do all the work will lose their appeal after a few hours. The reason why kids break toys is that they lose their original value. The science toy you should buy must encourage your grandchild's active participation.
Durable and sturdy
Some kids can be clumsy. Fragile toys may break if your grandkids drop them. Choose one that is made from the best quality materials. A durable toy will keep you confident in how long they can enjoy that investment.
Has extensive usage
Science toys for kids that are played only one way can hold back your grandchild's creativity. Instead, the best investment toy gifts allow freedom on what kids can do with them.
Select toys that have a wide range of uses will keep kids excited to play with them.
Challenging, minus the frustration
Toys that pose challenges are one thing. But toys that cause too much frustration may discourage kids from playing with them. The best investment gifts for grandchildren must promote their love for learning. And not drive them away.
So, choose a toy that is appropriate for their ages. Watch out for choking hazard warnings, as well!
Science toys for kids are exciting. These playthings will reach their breaking point one way or another. But the concepts imparted to children will remain even as they grow older.
Invest Well!
You must not enclose the best investment gifts for grandchildren in monetary value. The most suitable and affordable investments are toys they can enjoy playing with now. Science toys are the best options to influence their formative years until they mature.
Toys are not an excuse to keep kids busy—a means to bargain a few moments of solitude. Instead, toys are ways to mold their career path and shape their future!
The microscope for kids is still up for grabs today! Buy now and get 15% OFF while supplies last!